About Alnoor
"Each of my design has a meaning.
Developed from the stance of semantics, my objects contain a symbolic message which is entirely deliberate"
Biography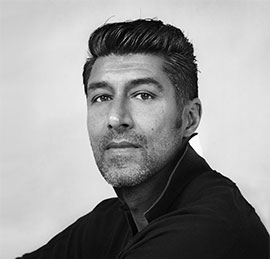 The paths that led Alnoor to design…
Alnoor, who had a passion for motor vehicles, was admitted to the Higher School of Industrial Design in Paris. His unexpected encounter with Christian Louboutin, who convinced him to work on a collection of shoes, opened up different horizons for him. Subsequently, he designed perfume bottles and jewellery for houses such as Dior and Hermès. In the same vein, in 2003, he founded an agency oriented towards the luxury products field (perfumes, jewellery, lifestyle products, etc.). At the same time, Alnoor retained his artistic freedom by creating limited series.
His creative process
When Alnoor works on behalf of a brand, he steeps himself in its cultural and stylistic heritage: reinventing the wheel is not at all his thing. He needs to base himself on a given history. He proposes new formal signifiers, recognisable signs which have emotional resonance. More often than not, he works for luxury brands which are looking for something completely new, or added emotional value. As part of his personal research, he places symbolic components at the heart of the creative process. He continues to be very devoted to underground work, which takes the form of preparatory sketches that enable him to closely examine the symbolic aspects of shapes. Then he refines the object until it becomes something almost unequivocal.
His vision of design
In his view, an object must have a history that you seek to appropriate for yourself. It speaks to the unconscious. Frequently it encourages you to touch it and engage in an emotional dialogue with it. Of necessity, it creates an attachment. Alnoor likes to emphasise this moment filled with promises and desires, just before physical contact with the object. He likes to say that he creates objects of desire.